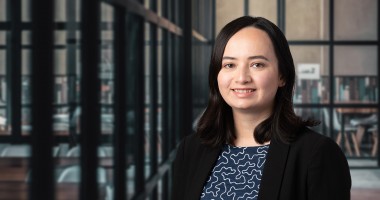 Ashleigh Ooi
Associate \ AJ Park Law Limited, Wellington
Ashleigh is a commercial law specialist with expertise in technology agreements and intellectual property (IP). Having previously worked in litigation and dispute resolution roles, Ashleigh now enjoys working proactively with clients to help them protect their business against future challenges.
EXPERTISE
As an associate within the Auckland commercial team, Ashleigh advises clients on commercial agreements, IP strategy, and related commercial and corporate issues.
Most of these commercial agreements have a focus on technology and Ashleigh regularly collaborates with AJ Park's trademarks and patent teams.
Her clients range from SMEs and start-ups to NZX-listed companies across a range of industries.
'Most of our clients are based in New Zealand but with worldwide operations. And sometimes we work with overseas companies wanting advice on how to do business in New Zealand.'
EXPERIENCE
After graduating in 2016 with first-class honours, Ashleigh began her career working for New Zealand's leading public law firm. This was followed by a role in a boutique firm specialising in technology, media, telecommunications and IP.
She then worked in London for two years, where she developed further commercial expertise.
'I always found IP disputes interesting, as the legal arguments were some of the most academically engaging that I had come across, particularly in regard to copyright infringement.
'When I came to AJ Park, I realised I'd found the perfect specialty for me—finding that balance between IP and commercial law. Compared to my previous litigation roles, it's refreshing to be involved from the beginning of a deal where you have the opportunity to identify future risks, and put measures in place to ensure the client will be in the best possible position if an issue arises.
'IP law allows for some of the most interesting legal discussions. The law doesn't always catch up to new technologies in real time, and because of this, IP lawyers sometimes find themselves treading new territory, setting legal precedents and having to come up with creative solutions.'
WORKING STYLE
Ashleigh enjoys working with her clients to find pragmatic solutions that maximise revenue, minimise risk, and help them to achieve their business goals.
'I like taking a collaborative approach and understanding the business from the inside. I don't think the 'lawyer is always right' approach works—it's not necessarily what clients are looking for and in my experience it often doesn't produce the right outcomes for a business.'
PROUDEST CAREER ACHIEVEMENT
Ashleigh worked remotely for the BBC for a year during the peak of the COVID-19 pandemic in the UK.
'I accepted the job before the pandemic took hold in the UK so I had no idea that the job was going to look very different to what I'd signed up for. I was inducted and trained entirely remotely and never met most of my team or clients. Despite these challenges, and it being my first time working as an in-house lawyer, I helped the business keep the wheels turning during a very unprecedented time.'
Services
Expertise
Qualifications
Admitted as a Barrister & Solicitor of the High Court of New Zealand
Bachelor of Laws (First Class Honours), University of Canterbury 2016
Bachelor of Arts (Political Science and History) University of Canterbury 2016