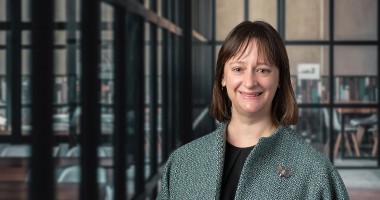 Dr Katherine Hebditch
Senior Associate \ AJ Park IP Limited, Auckland
Katherine uses her commercial acumen and deep knowledge of organic chemistry to help a wide range of clients protect their innovations.
Expertise
Katherine is a patent attorney in AJ Park's life sciences team. She works on patents mostly in the areas of pharmaceuticals, agribusiness, medical devices, foods and other technology sectors related to chemistry. Most of Katherine's clients are New Zealand businesses wanting to protect their inventions here and in other markets. Katherine observes that
New Zealanders are involved in a surprisingly wide range of patent activities. We are very pragmatic people and our inventions, even when they involve lateral thinking, very much reflect that practical approach and our national can-do attitude. The key challenge for me is ensuring that the field for each patent is specific enough to get a patent granted in the first place but not so narrow that it restricts the invention's future.
Working style
Katherine recognizes that science and law have very different languages and ways of thinking, so she believes that speaking to scientists in their own language about their work is very important.
'Many of our clients are specialists in their particular areas. My research background means we can have technical conversations diving into the invention details. At the same time, having overseen the application of IP in a veterinary pharmaceuticals company, I understand the commercial importance of seeing potential early and progressing innovations through an organisation's decision trees. I enjoy helping clients work through these processes and can help them address a range of questions. One thing I emphasise is that having the patent is just the starting point in the commercialisation process, and that success hinges on the ability to get out there and sell what you own.'
Experience
Katherine completed her PhD in Organic Chemistry in the UK and worked as a medicinal chemist in a lab before coming to New Zealand for post-doctoral research at The University of Auckland. After she completed her studies, Katherine became the Intellectual Property Manager at a local veterinary pharmaceuticals company and then worked for another New Zealand specialist IP law firm for 10 years before joining AJ Park in her current role.
Industry accolades
Katherine was peer-nominated as a 2020 and 2021 Rising Star for her work in life sciences and was listed in both the 2020 and 2021 Rising Stars Expert Guide.
Beyond work
Outside of work hours, Katherine enjoys sewing and making her own clothes.
Expertise
Qualifications
MChem (Hons) (Chem), University of Sheffield
PhD, University of Manchester
Registered Patent Attorney (New Zealand and Australia)
Dr Katherine Hebditch's insights
Dr Katherine Hebditch's team