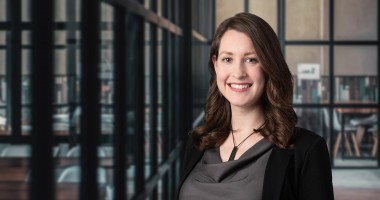 Kate Blincoe
Patent Attorney \ AJ Park IP Limited, Wellington
With a background in mechanical engineering and experience in aircraft maintenance. Kate re-joined AJ Park's patent team in 2021 after spending time in the UK.
About Kate
Originally from Christchurch, New Zealand, Kate returned to AJ Park in early 2021 and works as a Patent Attorney in our Wellington office.
From aircraft maintenance to patent law
An interest in design, science and maths led her to a degree in mechanical engineering, after which Kate spent three years working in aircraft maintenance for Air New Zealand, designing repairs and liaising with global aircraft manufacturers. Keen to learn more about business, she returned to university to do her Master's in engineering management, which included a module on intellectual property (IP) law.
Her interest was piqued, and after completing her Master's, Kate did some contract work for an IP firm before spending three months working with start-ups at Lightning Lab, a business accelerator. Kate first joined AJ Park in January 2016 as a patent executive, and qualified as a Trans-Tasman Patent Attorney in February 2019. Kate then spent a year and a half working for an IP firm in the UK where she gained first-hand experience in UK and European patent law. She returned to her aviation roots in this role, primarily working with patent applications relating to the aerospace industry.
A passion for innovation
Motivated, friendly and a good problem-solver, Kate is interested in working with local clients and helping entrepreneurs and companies protect their ideas and grow their businesses. She enjoys the variety of working on patent applications for a range of different technologies.
I'm really fascinated by innovation and technology. I love working in an industry that gives me the opportunity to learn about new technology on a daily basis.
Beyond work
Outside of work, Kate enjoys travel, music and craft beer. She plays the viola and the trombone, and has played in a number of orchestras and brass bands over the years.
Services
Expertise
Qualifications
BE (Hons) (Mech), University of Canterbury, 2010
MEM, University of Canterbury, 2015
Registered Patent Attorney (New Zealand and Australia)