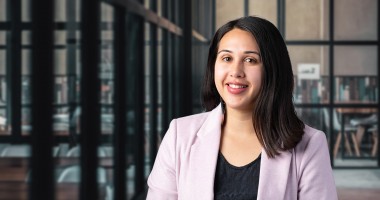 Rahera Dyall-Kalidas
Solicitor \ AJ Park Law Limited, Wellington
Rahera conducts trade mark availability and clearance searches, and advises on eligibility for trade mark registration.
E ngā mana e ngā reo, e rau rangatira mā, ngā mihi. Ko Rahera tōku ingoa. He uri ahau nō Ngāti Porou, Te Aupōuri, Ngāti Maniapoto me Waikato-Tainui hoki. Tēnā koutou kātoa.
Expertise
A solicitor in AJ Park's Wellington office, Rahera specialises in trade marks.
She reviews examination reports, advises clients of their options for overcoming objections, and files submissions. Rahera also conducts trade mark availability searches and advises clients on eligibility for trade mark registration. She enjoys the variation of work and the challenges posed by responding to difficult examination reports.
'In this role you are constantly learning. I really value learning from so many knowledgeable trade mark experts. Although incredibly busy, I have always found my colleagues to be very helpful and supportive'.
Rahera is particularly interested in the effects of trade marks and copyright on international indigenous rights. Words and images in Māori, for example, often carry meaning far beyond how they are literally translated, so understanding why an idea or image is being used, how it is reflective of the business and whether it is culturally appropriate are all important considerations.
'It is important that anyone considering using a Māori word or idea for their product or service starts that consultation early and that the process is professionally managed and thorough .'
Working style
Ehara taku toa i te toa takitahi, engari he toa takitini – My success is not on me alone, as it was not individual success, but success of a collective.
Without the support of my family, friends, manager and colleagues, the transition from Treaty of Waitangi settlements into the trade mark space would have been significantly more challenging. It is because of everyone's support that I have been able to adapt and enjoy this transition.
In any role, I think building and maintaining relationships is very important. I have really enjoyed forming relationships with other attorneys and supporting clients in protecting their intellectual property rights. In the future, I look forward to meeting some of our international attorneys/clients.
Experience
Prior to joining AJ Park in August 2019, Rahera worked as an analyst at the Office for Māori Crown Relations (Te Arawhiti). Before that, she was at the Waitangi Tribunal for five years—first in administrative support and then as an assistant registrar. She also spent time on the Māori Lawyers Executive as a regional representative.
Beyond work
When Rahera is not at work, she enjoys spending time with family and friends, going to the gym and getting involved in community activities.
Services
Qualifications
LLB, Victoria University of Wellington (2017)
BA, Victoria University of Wellington (2017)
Admitted as a Barrister & Solicitor of the High Court of New Zealand
Rahera Dyall-Kalidas's insights
Rahera Dyall-Kalidas's team