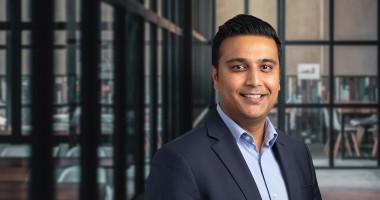 Pritesh Lohani
Senior Associate \ AJ Park IP Limited, Auckland
Pritesh advises clients on strategy, protection and enforcement of their patent and design rights.
Expertise
Pritesh joined AJ Park in early 2018. As a patent attorney in the firm's Auckland engineering/IT team, he advises clients on strategy, protection and enforcement of their patent and design rights in New Zealand and overseas.
His main areas of expertise include drafting and prosecution of patents in the fields of mechanical engineering, electronics, robotics, business methods, IT, software, fintech and AI technologies. He also carries out all types of patent searches and analysis including novelty, validity and freedom to operate.
Identifying and prioritising areas that may need intellectual property (IP) protection should be a key part of any business strategy. IP is not just there for defensive purposes; for some businesses, it can be their biggest asset.
Pritesh's clients range from individuals and SMEs to universities and large multi-national corporates. Most are based in New Zealand, Australia, Hong Kong and mainland China.
Working style
Friendly, professional and approachable, Pritesh enjoys the variety of his job and the opportunity to work with clients of all sizes. He likes to develop close relationships with his clients and really get to know what drives them. Pritesh believes business goals should be challenging, yet achievable, and prefers to take the necessary time to help his clients secure robust IP protection.
Experience
While pursuing his Master's degree in engineering, Pritesh sought to use his engineering and technical skills in a different way. In 2010, he took a position as a patent examiner with the Intellectual Property Office of New Zealand (IPONZ), initially working in the mechanical team and then moving to electronics/ICT. He subsequently joined a well-known New Zealand IP firm and became a registered patent attorney, acting before both IPONZ and the Australian Intellectual Property office.
Also an Australian trade mark attorney, Pritesh has experience representing clients in both patent and trade mark hearings, and in helping prepare oppositions and revocation proceedings.
Beyond the office
Outside of work Pritesh is an avid traveller who has trekked in Nepal, wandered the streets of Manhattan, hiked the Great Wall of China, snorkelled in Fiji, taken a dip in the Ganges River, tried every possible street food in Bangkok and walked on Minnesota's frozen lakes. He's also a 'kitchen scientist' who loves experimenting with food and producing culinary creations.
Services
Qualifications
BE (Hons) (Mechatronics), Massey University (2009)
ME (Mechatronics), Massey University (2011)
Registered Patent Attorney (New Zealand and Australia)
Registered Trade Mark Attorney (Australia)
Pritesh Lohani 's insights