Careers
Our people come from diverse backgrounds, have specialist skills and are industry experts. Would you like to join them?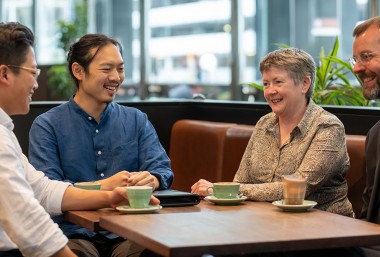 AJ Park is the intellectual property (IP) firm of choice in New Zealand. We are well respected both within the patent attorney profession and by the clients we work with.
Our people are talented, energetic and career-oriented. They come from a diverse range of backgrounds and disciplines including law, science and engineering. Our work environment is knowledge-based and we are committed to high standards of professionalism.

With offices in Auckland and Wellington, we currently employ nearly a third of New Zealand's patent attorney professionals. Our people are best in class, and not just academically or technically. Several rank among the world's top IP practitioners for IP strategy, commercialisation, protection, and enforcement. Others are sought after experts in their technology and legal domains.

In July 2020, AJ Park was named in NZ Lawyer's inaugural Employer of Choice report listing the 25 top-ranking legal organisations in New Zealand in terms of overall employee experience. The report celebrates employers who go beyond industry standards to provide their people with a safe and engaging working environment and showcases firms leading the way with policies and initiatives that engage their staff. We were also awarded 'Excellence' in the Legal Personnel Employer of Choice (<50 lawyers) category of the New Zealand Law Awards 2020.
If you are interested in finding out more about a career as an IP lawyer or patent attorney, or you're a qualified or a part-qualified patent attorney looking for career opportunities at AJ Park, please complete the get in touch form below.
Alternatively, you can apply for one of our job vacancies listed below.
What we look for in recruits
We are interested in intelligent, ambitious and enthusiastic people who want to work with the world's most innovative companies. An interest in further training in the patent profession is essential.
In the patent profession you need to be able to quickly assimilate information about leading-edge scientific or engineering technology.
In our trade mark teams, an understanding of marketing principles and an ability to think laterally will give you a head start.
If this sounds like you, we want to hear from you. Please send your CV, covering letter and academic transcript to careers@ajpark.com.
Professional development
At AJ Park we are committed to helping our people stay at the top of their game through professional and personal development.
Plain English
We offer globally recognised plain English training to our people to help hone your clear communication skills. At AJ Park we are committed to helping our people stay at the top of their game through professional and personal development.
Networking opportunities
Growing our local and global networks is part of our firm's success. When you join the team you'll be offered the opportunity to grow your own networks through memberships and events.
Social and community activities
As we're continually looking to develop and challenge our people, we'll be looking to give you interesting opportunities beyond your role. We have an active social club, sports teams and opportunities to give back to the communities we work in.
Our culture
We offer a rewarding career, community and team spirit and opportunities to develop technically and personally.
We emphasise wellbeing
The wellbeing of our people is vital and we encourage a work-life balance. We offer programmes to help our people maintain healthy, balanced lifestyles and our Employee Assistance Programme offers our people support through life's challenges.
Our weekly lunchtime seminar series for all staff helps you develop professionally and personally. We also offer daily fruit and weekly morning teas.
We like to have fun
Our social club organises activities throughout the year, from sports events to fishing trips and more. We have monthly drinks for all to celebrate our successes.
Our people are approachable
Our principals and senior staff are approachable. Their doors are open and they balance performance drive with a good sense of humour.
We give back to our communities
As a member of our team, you'll have opportunities to support industries and communities you are passionate about through volunteering, pro bono work or sponsorship.
Get in touch
To get in touch with us, simply fill in the form below and we'll get right back to you.