In response to the 2011 earthquakes in Christchurch New Zealand, university researchers emerged from the laboratory with world-first technology in seismic protection. That was the start of the story for emerging deep-tech company, Tectonus.
Within the first three months of 2011, the world witnessed two major earthquake events. A magnitude 9.0 quake in Japan triggered a massive tsunami and caused unprecedented damage. In the February Christchurch earthquake, 185 lives were lost and more than 200,000 buildings were damaged.
It was in response to these events that two structural engineers at The University of Auckland – Professor Pierre Quenneville and Dr Pouyan Zarnani – began researching ways to help reduce such devastating impacts.
"They wanted to explore what the underlying problems were that still caused such devastation to buildings, despite all the advances in seismic technology," explains Keane Lee, Chief Business Officer for Tectonus.
"The critical thing they found was the lack of resiliency of the structural connectors."
Their solution was to invent a next-generation structural connector for seismic protection – which they named the Resilient Slip Friction Joint (RSFJ®).
In a nutshell, conventional seismic connectors act as "one-off fuses" that require costly maintenance and replacement after each earthquake, assuming a building can be saved. The unique thing about the RSFJ® is that the device "self-centres" itself during the quake, which can help eliminate the need for repair or maintenance afterwards.
The RSFJ® also has a complementary mechanical gauge that allows engineers to assess whether the building is safe to be occupied after an event.
Since launch, the RSFJ® has been used in a number of projects in both New Zealand and Canada. The very first commercial installation, in 2017, was for the new Nelson Airport terminal.
"Having the opportunity to be part of this greenfield project was very important to us in terms of rolling the snowball to other engineers," says Lee.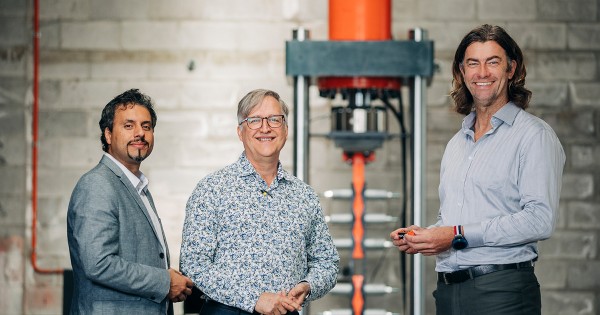 Another prestigious job came from the multinational engineering firm, Fast & Epp, when they specified the RSFJ® for their new headquarters in Vancouver.
"For such a well-known global engineering consultancy to use our product for their own building was quite significant. It gave us a platform to step into other international markets, including Canada and the US."
The company's initial focus has been on the earthquake-prone 'ring of fire' countries of New Zealand, Japan, the US and Canada.
"That's where we see the greatest demand will be at first," says Lee.
"But we also know there are further opportunities for our technology that extend beyond the construction markets – in machinery, towers, cranes and the like. It's very versatile technology which can be applied to many other industries."
This is already happening, with Tectonus seizing on an opportunity for seismic protection within the wine industry.
"We were doing our usual presentation rounds one day, when one of the engineers in the group asked if we had seismic solutions for winery tanks. We took a closer look and realised one of the technologies we'd already developed could be pivoted to this application."
The Resilient Slip Fraction Damper (RSFD®), a second patentable device, is now selling well in the wine industry. It is available to the wider tank industry – including dairy, food and beverages, or hazardous chemicals – and will also potentially be used in residential home building.
Given that Tectonus is essentially still in the start-up phase, Lee says they need to take a disciplined approach in the face of many enticing new market opportunities.
"Our team is primarily from a structural engineering background, so right now we're prioritising the construction industry based on our skillsets. But in future, we'll recruit experts across different fields and start exploring other industries such as machinery or even aerospace."
The executive team also took a methodical approach when choosing the first overseas markets in which to patent their world-leading technologies.
"As well as countries with seismic vulnerability, we analyse the market size, regulatory barriers, the size of the economy, and whether we have manufacturers or suppliers on the ground."
The relationship between Tectonus and AJ Park dates back to the earliest research days, and continued with the 2016 launch of the company. AJ Park now has patent applications underway in 10 different countries, including a granted patent in Taiwan..
"Having the patent granted in Taiwan reinforced the fact that our resiliency model is quite different to ordinary friction damping, which has been one of the challenges we've needed to overcome."
Lee points out that bringing new technologies to maturity in the deep-tech sector is typically more of a long-game.
Deep-tech companies often take longer to mature than the likes of Saas companies; because we need to prove our technologies are safe, as well as being unique and innovative. But laying that solid foundation can certainly pay off when it comes to growth and potential revenues.
Many deep-tech inventors choose the quicker pathway to commercialisation, by licensing their technology to an established company – which is something Tectonus almost did.
"In the early days, we considered licensing out the technology to another offshore company. In hindsight, we now feel very fortunate that we took the commercialisation route…because we believe we're creating iconic New Zealand-grown technology that will bring real value to the world."
Lee says successful protection of their intellectual property is "definitely the key to our success", which is why Tectonus values the expertise and responsiveness of AJ Park. They work primarily with Anton Blijlevens and Dr David Simunic, principals in AJ Park's mechanical engineering patents team.
"We know we can leave it in the hands of AJ Park and they'll let us know when we need to make decisions, what decisions we need to make, and the recommended steps. This kind of relationship is exactly what we need…because it leaves us free to focus on growing our business, interacting with clients and developing our technology further."