The Intellectual Property Office of New Zealand (IPONZ) has recently updated timeframes for issuing a first examination report for patent applications where ordinary examination has been requested.
The current IPONZ first office action pendency varies widely by technology:
12 months for electrical and ICT
16 months for mechanical inventions
29 months for chemistry/biotech inventions
This means that a medical device could be accepted by IPONZ before a pharmaceutical has even crossed the desk of a biotech examiner, even if examination of the applications was requested on the same date.
It wasn't always this way. IPONZ used to be one of the fastest offices in the English-speaking world, with a first office action pendency of just 4-6 months as late as June 2019. The pendency at IPONZ for chemistry/biotech applications has increased in the three years since.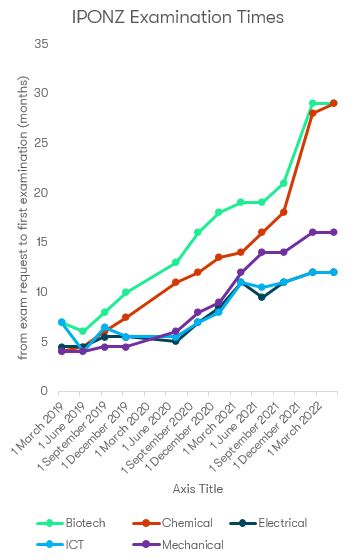 A number of factors are responsible for this increase, including:
a massive number of examination requests were filed to avoid new excess claims fee introduced in February 2020
various Covid-related delays from March 2020
the growing total share of 2013 Act cases being examined over 1953 Act cases.
This means for chemistry/biotech applications, the first examination report may very well come after the effective deadline for filing a divisional (examination of any divisional application must be requested within five years of its antedated filing date). This could be very inconvenient timing for a unity objection to be raised if there is no possibility of prosecuting a divisional!
These delays are not just isolated to New Zealand. In fact, the current timeframes are very much in line with comparable offices overseas:
| | | |
| --- | --- | --- |
| Office | Time to first action | Time to grant |
| IPONZ[1] | 12-29 months | 24-41 months |
| IP Australia[2] | 11-30 months | 23-42 months |
| USPTO (USA)[3] | 16-22 months | 24-46 months |
| EPO (Europe)[4] | | 36-45 months |
| CIPO (Canada)[5] | | 26-47 months |
So although IPONZ's reputation under the 1953 Act as the "quickest draw in the West" is now gone, the current wait times are nothing out of the ordinary.
However, New Zealand applicants must keep in mind the spanner in the works – the fact that there is an effective five year deadline for filing any divisional application (including divisionals of divisionals). Given this effective deadline for filing divisionals, we recommend you consider your divisional filing strategy for chemistry/biotech applications sooner rather than later. Alternatively, examination of an application can be expedited using the Global Patent Prosecution Highway (GPPH) where there are granted or allowed claims for a corresponding application in a participating jurisdiction. A GPPH request can result in a first examination report issuing within 42 working days.
If you would like to find out more about filing patents in New Zealand, or the option of requesting expedited examination for an existing application, please get in touch.
[1] https://www.iponz.govt.nz/support/timeframes/
[2] https://www.ipaustralia.gov.au/patents/managing-your-patent/patents-response-times
[3] https://www.uspto.gov/dashboard/patents/pendency.html
[4] https://www.fiveipoffices.org/sites/default/files/2021-12/IP5%20Statistics%20Report%202020%20final_23122021.pdf, page 9
[5] https://www.ic.gc.ca/eic/site/cipointernet-internetopic.nsf/eng/wr04824.html