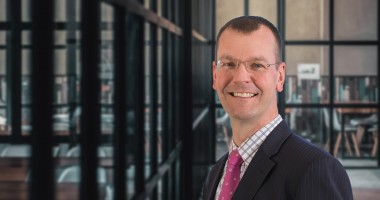 Dr Duncan de Geest
Principal \ AJ Park Law Limited, Wellington
Duncan is the Practice Group Leader for AJ Park's Patent (Chembio) practice. He is a patent law specialist with particular expertise in the area of chemical innovations.
Expertise
Duncan's work involves advising clients looking to secure patent protection in fields such as nanotechnology, materials science, medical devices, small-molecule pharmaceuticals, and process technology.

Duncan's clients range from New Zealand companies and research organisations, such as crown research institutes and universities, to large research-driven multinationals located throughout Europe, Japan and the United States. He works directly with clients and is also instructed through international law firms working on behalf of overseas clients to obtain intellectual property (IP) protection through the New Zealand and Australian patent offices.
I like the exposure my work gives me to a range of different things. You don't need to be an expert in everything, but you do need the ability to quickly acquire a workable knowledge of many different fields.
Experience
Before joining AJ Park in 2001, Duncan completed a BSc (Hons) and PhD in chemistry at the University of Canterbury. He went on to carry out post-doctoral research at the University of Otago in organic and inorganic design, synthesis and characterisation. But he never forgot the guest lectures given by a visiting patent attorney—he'd been intrigued. He applied for a job at AJ Park and moved to Wellington, completing his law degree part-time and becoming a registered patent attorney.
Working style
'You wouldn't become a patent attorney if you weren't an inherently curious person who wants to know how things work. It's a job that's very detail oriented.'
While positive client feedback is always welcome, Duncan derives satisfaction from knowing he's done a good job and from collaborating with his colleagues.

'The IP profession as a whole is very collegial; it's perhaps unique in that respect. It's great to work with people at AJ Park. I like their willingness to help out and wrestle with issues to come up with the best solution for our clients.'
Other credentials
In 2017, Duncan was ranked as a patent lawyer rising star in Expert Guides. Duncan was also recognised in the 2023 and 2024 editions of The Best Lawyers in New Zealand™ in the field of Biotechnology and IP law. He was also recently noted as a recommended individual in IAM Patent 1000 for 2023.
Services
Expertise
Qualifications
BSc (Hons) (Chem), University of Canterbury (1992)
PhD, University of Canterbury (1998)
LLB, Victoria University of Wellington (2009)
Registered Patent Attorney (New Zealand and Australia)
Admitted as a Barrister & Solicitor of the High Court of New Zealand
Dr Duncan de Geest's insights
Dr Duncan de Geest's team