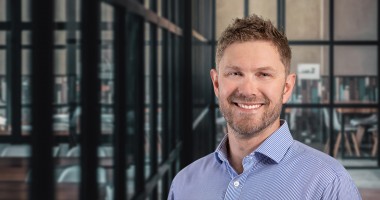 Dr James Robinson
Principal \ AJ Park IP Limited, Auckland
A patent attorney with a background in organic chemistry, James is a member of AJ Park's Auckland life sciences patent team and specialises in all aspects of intellectual property (IP) law for chemical innovations.
Expertise
James has been a member of AJ Park's life sciences patent team since 2007. He specialises in all aspects of IP law for chemical innovations, but also handles applications in a wide range of other technical fields.
James's role involves filing and prosecuting patent applications, drafting patent specifications, advising clients on patent filing strategies, patent validity and infringement issues, and conducting patentability and freedom to operate searches on their behalf.
Working style
Hard-working and detail-focused, James enjoys helping clients protect their technology, and derives huge satisfaction from seeing their important innovations protected. His clients include overseas associates and corporates, as well as local companies and individuals.
James endeavours to see things from his clients' perspectives so he can deliver the support they need in order to make the most informed decisions about their IP protection.
Different clients have different needs so I take care to tailor my advice accordingly. It's important for clients to have a clear understanding of what they want to get out of the patenting process. There are many reasons for wanting to obtain a patent, but it can be an expensive exercise, so the business case has to justify the cost.
Experience
James joined AJ Park straight from an academic environment. He has a first class honours degree in chemistry and a PhD in organic chemistry. After his PhD, he was a postdoctoral research fellow at the University of Auckland and then did further postdoctoral research in synthetic organic chemistry at the University of York, England.
Now a registered patent attorney, James has an in-depth knowledge of the patent system and a track record in providing valued advice and quality client service.
Recent accolades
recognised as a 'notable practitioner' in Managing IP's IP STARS for 2023 and 2021.
recognised in the 2023 and 2024 edition of The Best Lawyers in New Zealand™.
named in the 2019 edition of Managing IP's Rising Stars, produced by the IP STARS research team. This special list recognises some of the best up-and-coming IP practitioners who contributed to the success of their firms and clients.
Services
Qualifications
BSc (Hons) (Chem), University of Auckland (2002)
PhD, University of Auckland (2007)
Registered Patent Attorney (New Zealand and Australia)
Dr James Robinson's insights