Māori history and oral tradition is being delivered in a truly 21st century way thanks to a new location-based app developed by Tauranga company Arataki Systems. It's mission: to share one million stories.
Kia mau koe ki ngā kupu o ōu tupuna (hold fast to the words of your ancestors). Māori culture is rooted in an oral tradition where knowledge, history, customs, beliefs and whakapapa (genealogy) have been passed on through richly detailed stories. Those stories remain an integral part of Māoritanga today, and the drive to preserve them is gaining momentum along with renewed efforts to revive and safeguard te Reo Māori.
Lee Timutimu, CEO and founder of Arataki Systems, is passionate about Māori storytelling. A decade ago, he launched an initiative called Te Reo Wainene o Tua to foster the artform of traditional Māori storytelling through storytelling events in 100 percent Te Reo for primary and preschool-aged children.
Lee is now using his IT skills in a very modern approach to protecting and sharing Māori stories. Together with his brother, Denym Harawira and cousins, Clayton Low and Anaru Timutimu, he has developed New Zealand's first proximity-activated cultural content delivery platform. Arataki is a location-based app that offers virtual self-guided cultural experiences that connect users with content and information at specific locations around the country.
"Oral tradition is incredibly important to us," says Lee. "Our goal is to bridge the cultural gap between communities by sharing cultural stories with as many people as possible".
"Technology lets us connect with people at scale, providing an alternative to physical storytellers that's more about accessibility and availability. This is where we see the blending of traditional story and modern tech, and it's certainly what the Arataki app provides. As experienced Māori storytellers, we have a responsibility to capture and maintain our stories. They're more than just content or data – they are taonga (treasures) and a large part of our purpose is to retain stories for future generations to enjoy."
When it was launched in 2017, the app was initially targeted at the cruise ship passenger market in Tauranga. But its creators knew it could be used by both foreign and domestic tourists. And while it's of interest to all New Zealanders, from a cultural tourism perspective, the app is more suited to non-Māori with limited knowledge of the Māori culture.
A large part of Arataki's work is forming trust relationships with iwi organisations around New Zealand who provide access to their treasure trove of authentic placed-based stories. These are then scripted, re-told by experienced storytellers and recorded for the app.
"Overall, the iwi response to the work we're doing in the digital storytelling space has been positive," says Lee. "Our customers currently include several iwi organisations: Ngāi Tahu Tourism, Waikato-Tainui College for Research & Development (Hopuhopu, Waikato), and Ngāti Ranginui Iwi Trust (Tauranga), and we're in discussions with a number of others."
Helping Arataki Systems to protect its unique concept was the role of AJ Park. IP specialists Lynell Tuffery Huria and Mark Hargreaves provided the business with comprehensive cross-speciality advice. Mark is a specialist in commercial IP and strategy, while Lynell has expertise in branding, trade mark protection and Māori culture and business. As New Zealand's first registered Māori patent attorney, she has a specific interest in indigenous law. Of Ngāti Ruanui and Ngā Ruahine Rangi whakapapa, Lynell is passionate about creating a better future for Māori.
She and Mark worked with Arataki to develop a tailored IP strategy and resolve its two most important issues: protecting its brand and trade marks, and creating contracts for those producing the written work and voice overs, and terms and conditions around use of the content they were gathering.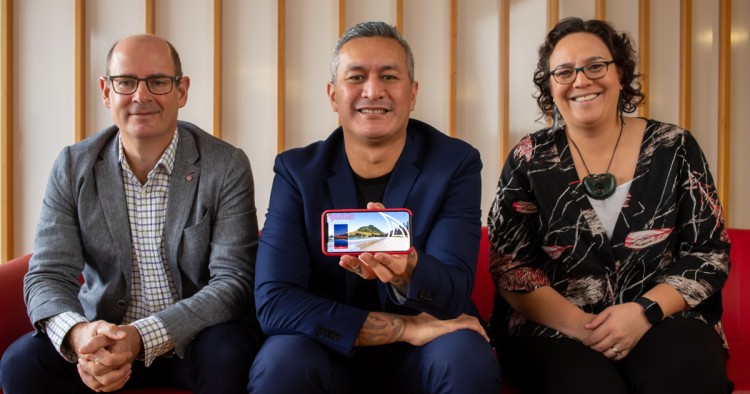 From left to right: Lee Timutimu, CEO and founder of Arataki Systems with AJ Park principals Lynell Tuffery Huria and Mark Hargreaves
"A lot of the IP strategy we devised was based around Arataki's reputation, brand and authenticity, and the connections they had with the individual storytellers," says Mark. "There's a real sensitivity to any claim of ownership of Māori stories. We helped them understand exactly what intellectual property they had and the best strategy to take forward. Arataki had previously filed a patent. Rather than continue with that, we recommended investing in protecting and developing their brand and having contracts to ensure they could use the content and stories they were gathering from people as part of the service."
Mark says it was important to have Lee and the team understand that even though these were not their stories, by customising the content, it is possible to create new copyright works in the way those stories are presented.
"Even protecting the word Arataki threw up questions," says Mark. "While other people can still use that word, I encouraged them to think of the brand as relating to their specific tourism app."
Arataki means 'to lead, to point out, to guide' in Māori – it encapsulates the app's purpose and signals that this is a Māori-owned business. As a tech start-up bootstrapping through the first 12 months of operation, the company couldn't afford a professional graphic designer, so Lee designed the Arataki logo himself.
"Its Māori-influenced and stylised 'A' represents the sail of a waka hourua (double-hulled boat)," he explains. "The sail symbolises the navigational accomplishments of our ancestors who were skilled travellers."
The sail also represents a journey and the app's aim to help users self-guide and navigate to places of cultural significance where they can unlock authentic cultural stories.
Another critical piece of work, says Lynell, was around developing the terms and conditions of the app users' contracts.
"Those contracts give Arataki the ability to recognise and protect traditional knowledge and the rights of the knowledge owners, because we don't currently have a framework in New Zealand that enables us to do that," she says. "It means that the story is told in a way that's authentic and approved by the local iwi, hapū, or whānau. Arataki is simply sharing that story with their permission, but all kaitiaki rights are preserved back to the whānau/hapū/iwi."
Lee believes there were distinct benefits to working with intellectual property specialists that understand the Māori perspective of doing business.
AJ Park helped us demystify and clarify what IP means to us as a Māori-owned business that deals with Māori cultural content. They helped us to develop an IP strategy that didn't focus on the technology, but more on the IP surrounding the cultural content in our care and the copyright considerations related to that content – and, more importantly, how we, as responsible caretakers, approach our responsibilities to our iwi partners and their copyright.
In April 2019, Arataki showcased its platform by deploying a selection of self-curated cultural content to all airports in New Zealand.
"We also deployed the same content to 22 major cities around the world!," says Lee. "The point of this exercise was to showcase what we've built, and to demonstrate that we have the ability to virtually place content anywhere in the world simply by using the GPS coordinates of that location."
The focus now is to gather more quality content for the app and have more stories available at more locations around the country. But Arataki also has global aspirations. The company wants to share its platform with other indigenous peoples looking for a way to digitally tell their authentic stories, on their lands.
"Currently, we have a customer in South Australia, Ngarrindjeri, who will use our white label platform on their lands to share their stories. This is the start of us testing the global market," says Lee.


Written by: Deirdre Coleman
Photo credit: Grant Maiden