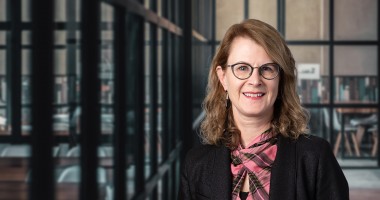 Dr Andrea Dickens
Managing Director \ AJ Park IP Limited , Wellington
Having held a number of management positions at AJ Park over the past two decades, Andrea draws on her extensive experience to oversee the effective running of the business.
Expertise
As AJ Park's managing director, Andrea works with the firm's board, principals and senior management team, overseeing the effective and efficient running of the business. She is also responsible for ensuring AJ Park meets its shareholders' expectations, continues to provide excellent client service, and remains a great place for its staff to work.
It's a role Andrea is well-placed to fill. A long-standing member of the AJ Park team, she joined the firm in 1999 as its first marketing manager and has since held numerous management roles. As strategic projects manager, she ran a range of projects across the company, from policy writing and document management to leading AJ Park's work in Plain English and building the firm's intranet. Andrea was later head of business operations before taking on the position of chief operating officer in early 2018. She became AJ Park's managing director in June 2020.
Experience
After graduating from Victoria University, Andrea began her career in marketing at an electrical wholesale company. Lured into the 'glamorous' legal profession by the popular TV show LA Law, she became Marketing Manager at a large commercial law firm in 1992. There she honed her skills in diplomacy and persuasion, and learnt to cope with the challenges of the rapidly evolving legal profession. Andrea subsequently moved to AJ Park. During a four-year sabbatical, she took up a practice management role in a central government agency, but was thrilled to return to AJ Park as Service Development Manager in 2015.
Working style
Andrea is proud to be associated with such a high quality brand as AJ Park and to be part of the firm's story. A people person with a strongly collaborative approach, she gains enormous satisfaction from seeing her team and the business succeed.
I feel really proud to work for a company with such a strong international reputation. We employ really smart people who respect each other's knowledge and value each other's contributions. They're accessible and approachable, and are genuinely trying to do the best job possible for our clients.
Credentials
Andrea has a BCA in marketing and an MBA, both from Victoria University of Wellington. She also has a PhD in strategic management, focusing on how professional services firms develop the capabilities to adapt to their constantly changing environments.
For several years, Andrea has been a judge of the WriteMark Plain English Awards, and continues to be an evangelist for clear, client-focused communication.
Qualifications
PhD, Victoria University of Wellington, 2019
BCA (Marketing), Victoria University of Wellington, 1989
MBA, Victoria University of Wellington, 2012
Dr Andrea Dickens's insights