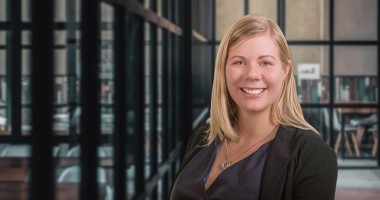 Zoe Dewhurst
Senior Associate \ AJ Park Law Limited, Wellington
Zoe is a trade mark specialist with expertise and experience in the trade mark law of New Zealand, Australia, the UK and Europe.
Expertise
As a trade mark specialist, Zoe devises protection strategies to suit her clients' present and future needs, and meet their budgets and expectations. Her role involves managing client trade mark portfolios, filing and prosecuting local and international trade mark applications, and conducting trade mark availability and clearance searches. She also advises on trade mark assignments, licenses and infringement matters, and trade mark oppositions.
After nearly a decade working in trade mark law, I'm still encountering new situations that require new solutions. The right intellectual property solution doesn't look the same for everyone; it's about understanding what my client is working hard to achieve and tailoring the strategy to meet those needs.
Zoe has a solid understanding of trade mark law both in New Zealand and Australia, and in her clients' key export markets including China, USA, European Union and other ASEAN markets.
Her clients range from large multi-nationals through to small, innovative New Zealand businesses, and represent a variety of industries including food and beverage, personal care, health, apparel, entertainment, educational, finance and industrial machinery.
Working style
Approachable, thorough and conscientious, Zoe likes to ensure things are done right from the start to give clients certainty that their trade marks will continue to provide long-term protection as their business grows and develops.
A proponent of open and clear communication, she enjoys talking clients through difficult issues and helping them navigate the often unfamiliar landscape of trade mark law.
'It's important to build a great working relationship with a client based on mutual understanding and trust. This often leads to clients seeking our advice in the early stages of new developments, thereby avoiding issues further down the track.'
Experience
Before joining AJ Park, Zoe worked for the Intellectual Property Office of New Zealand as a trade mark examiner. She subsequently moved to London for four years and worked at Reddie & Grose LLP as a trade mark paralegal. During this time, she advised on aspects of trade mark law across the UK and European Union including strategy advice, clearance searching, trade mark filings and enforcement proceedings.
Services
Expertise
Qualifications
LLB, University of Otago (2005)
BA (Psychology), University of Otago (2005)
Admitted as a Barrister & Solicitor of the High Court of New Zealand