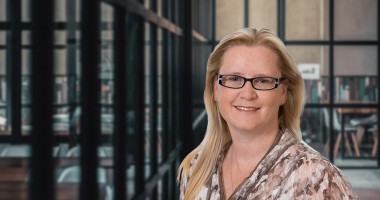 Fiona Haggland
Trade Mark Executive \ AJ Park IP Limited, Wellington
A seasoned member of the AJ Park team, Fiona specialises in trade mark prosecution and maintenance.
Expertise
Fiona's role involves a range of activities that support the trade mark team. On a daily basis, she files and prosecutes trade marks in New Zealand for leading international organisations, maintains trade marks, assists with trade mark assignments, files changes of name and address for service, advises on trade mark registration, and files and prosecutes trade marks in Australia and the Pacific Islands.
Clients
Fiona has experience working with companies across many industries, particularly pharmaceutical and computer firms. She deals with clients from the United States.
Experience
In 1993, fresh out of polytech, Fiona joined AJ Park as a secretary. She became a trade mark executive in 2001. Over the past 25 years, she has gained a wealth of intellectual property knowledge and experience.
Fiona loves the positive, supportive environment at AJ Park, and her friendly, can-do approach is much appreciated by the teams she works with.
Fiona Haggland's insights