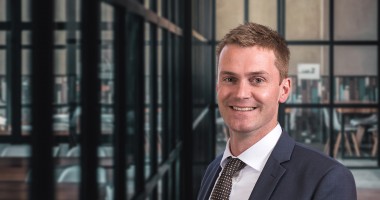 Kieran O'Connell
Principal \ AJ Park Law Limited, Wellington
Kieran is a trade mark and copyright specialist who enjoys finding pragmatic and cost-effective solutions to sticky issues.
Expertise
As a principal specialising in trade marks and copyright, Kieran works with a range of companies, advising them on intellectual property (IP) strategy and helping them navigate the intricacies of protecting their IP rights.
Most of Kieran's local clients are companies, such as outdoor apparel manufacturers, craft beer brewers, and organic food companies. His international clients include well-known multinationals in the electronics, cosmetics and pharmaceutical industries.
Working with companies and guiding them around issues and strategy is a favourite aspect of my job. I've also played a part in building some well-known brands and it's been a privilege watching them succeed.
Working style
Beneath Kieran's relaxed exterior lies a strategic thinker who enjoys problem-solving. He loves rising to the challenge of providing pragmatic and cost-effective responses to sticky issues.
'I try to be efficient and strategic in how I approach issues. Often, it's not only about the issue that's in front of you; you may need to think a couple of steps ahead too. I believe it's important to be clear from the outset about what's achievable within each client's particular constraints. I like to outline what we might come across and where costs might lie so there are no surprises.'
A highlight of Kieran's working career has been providing advice around New Zealand's flag change referendum – a project he describes as fascinating and unique.
Recent accolades
Kieran has been recognised as a notable practitioner in Managing IP's 2021 IP Stars list. He was also named in the 2019 edition of Managing IP's Rising Stars, produced by the IP STARS research team. This special list recognises some of the best up-and-coming IP practitioners who contributed to the success of their firms and clients. Kieran was also recently selected by his peers for inclusion in the 2023 and 2024 Best Lawyers in New Zealand™ in the field of IP law.
Previous roles
Kieran jokingly refers to himself as a failed musician who gave up his dream of rock 'n' roll fame as a bass guitarist to study law and history. It was his interest in the legal rights behind music that got him into IP law initially.
Before joining AJ Park in 2008, Kieran worked with the IP policy team at New Zealand's Ministry of Economic Development, advising on free trade agreements and legislative changes. He took time off for an 18-month cultural exchange to Japan where he taught English, and then did legal work in London for companies in the licensing and merchandising space.
Beyond work
Outside of work Kieran and his wife are busy raising their two young children. But they still make time to hone their surfing skills at nearby Lyall Bay in Wellington. Kieran also remains passionate about music, attending gigs by local bands and listening to indie and alternative artists.
Services
Expertise
Qualifications
BA (Hons), University of Otago (2002)
LLB, University of Otago (2002)
Admitted as a Barrister & Solicitor of the High Court of New Zealand
New Zealand Rugby \ Staying ahead of the game
With close to an 80 percent win rate, the All Blacks is one of the most successful teams in sporting history; and their skill, power and mana has become part of our national identity. But the All Blacks' reputation is not just a matter of national pride for Kiwis—the success of all our representative teams helps bring in vital revenue that goes into supporting and promoting players and the game from the grassroots up.
Staying ahead of the game
Kieran O'Connell's insights