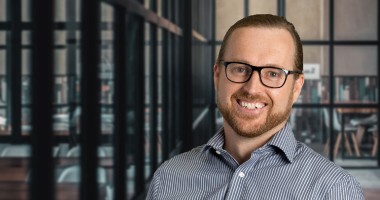 Dr John Foulkes
Senior Associate \ AJ Park IP Limited, Auckland
With a PhD in Electrical and Electronic engineering, John has strong credentials in both the academic and commercial spheres. Prior to joining AJ Park, he worked as in-house patent attorney
for Centrica, a leading energy company in the UK.
Expertise
John is qualified as a Patent Attorney in the UK, Australia and New Zealand. He works primarily in patents at AJ Park, and also advises on registered design protection.
John enjoys working across a range of technologies and clients, and helping clients create an IP portfolio which allows for successful commercialisation.
'With constant exposure to new and innovative ideas and technologies, you're always learning. I enjoy the process of working to understand a new technology – either with the inventors or from an invention disclosure – and grasping the cleverness of the solution.'
Working style
'I enjoy working with founders and inventors, particularly their enthusiasm and expert knowledge. I also like the challenge of providing clear advice on complex matters to both small and large businesses.'
Experience
During his doctorate studies at the University of Canterbury, John worked to understand and simulate a novel lithography technique. He was also exposed to a range of new technologies and ideas through his involvement with the nanotechnology group and the MacDiarmid Institute.
John started his career in intellectual property (IP) with a large New Zealand firm in 2012. In 2017, he moved to the UK and worked in the technology transfer team at the University of Surrey before moving to Centrica. He spent 3.5 years at Centrica and was part of a small team tasked with establishing an IP department and culture across the business.
Centrica is the largest supplier of gas and electricity in the UK; and the range of technologies supported included home automation, data science, energy management and optimisation.
'In my role at Centrica I had the opportunity to provide clear advice on potential IP risks to business leaders, which in turn helped to guide product or strategic decisions.'
Being a patent attorney requires constant attention to detail because it's impossible to know which patents you draft or work on could be contentious.
Services
Expertise
Qualifications
Registered Patent Attorney (New Zealand and Australia)
Registered Patent Attorney (UK)
BE(Hons) Electrical and Electronic Engineering (2007)
PhD Electrical and Electronic Engineering (2011)
Dr John Foulkes's insights