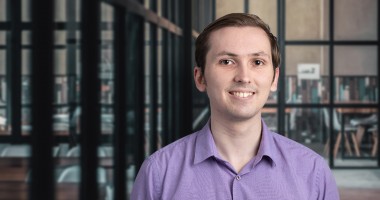 Louis Habberfield-Short
Associate \ AJ Park IP Limited, Auckland
Louis Habberfield-Short is a patent associate in AJ Park's engineering/IT patents team. He assists clients with protecting innovations across the mechanical, electrical, and software disciplines.
Expertise
Louis' work focuses on helping clients protect their innovations and avoid infringement of third-party rights across many sectors including construction, heavy engineering, aerospace, and agriculture.
His specialties include drafting patent specifications and prosecuting patent applications globally, as well as carrying out searching for patentability or freedom to operate purposes – he prides himself on efficiently finding relevant prior art even if it's obscure. Louis also prepares and files applications for registered designs.
Louis works primarily with local clients including individuals, SMEs, and larger corporates.
Most clients I work with have inventions that are mechanical in nature, but my mechatronics background makes me interested in businesses that include electrical and software elements in their inventions. It's fascinating to be there as the idea takes shape and they get themselves ready to go to market.
Working style
Attention to detail is important to Louis. He enjoys finding elegant ways to protect innovations, whether by cleverly worded patent claims or carefully prepared design drawings.
I enjoy that I get to work on many different cases and learn the details of a multitude of inventions in completely different fields of engineering. I don't think there are many other jobs that expose you to quite the same diversity of technological innovation.
However, he is also pragmatic about the business realities of intellectual property and makes a point of discussing commercialisation with every new client. His priority is always to give considered IP strategy advice, recognising that expenditure on IP should represent value for money and be backed by a solid business plan.
Experience
While completing his engineering degree at the University of Auckland, Louis tutored first-year engineering students and worked part-time developing electronic puzzles for escape rooms. He also worked in production at a photonics company, assembling optical test equipment.
Louis had originally considered pursuing a law degree but decided to focus on engineering after hearing that a career as a patent attorney would remain an option; so joining AJ Park as a graduate was a natural fit.
Beyond work
For many years Louis has been a qualified tournament adjudicator for the card game Magic: The Gathering, and he occasionally plays in tournaments to qualify for Regional Championships. He once also acted as a banker at the NZ Nationals tournament for Monopoly.
Louis also enjoys working on personal programming projects, primarily for web scraping and embedded electronics; he has developed a Python script to scrape the patent attorney register and verify that he has the longest name of all the attorneys.
Services
Qualifications
BE (Hons) (Mechatronics), University of Auckland (2020)
Master of Intellectual Property, University of Technology Sydney (2023)
Registered Patent Attorney (New Zealand & Australia)
Registered Trade Marks Attorney (Australia)
Louis Habberfield-Short's insights
Louis Habberfield-Short's team