Beyond IP programme
Driving growth and profitability through intangible assets
Seek a competitive advantage! Great ideas drive innovation. By investing in your knowledge of intangible assets (IA), you can gain a competitive advantage in your industry to stand out from the competition and position yourself for long-term success.
What is the Beyond IP programme?
Beyond IP is a programme partly funded by Callaghan Innovation to help businesses build in-house capability and knowledge around IAs, and develop an actionable IA strategy.
The Beyond IP programme connects businesses with experienced IA professionals who can provide guidance and support on everything from patent and trade mark basics, IA capture and protection strategy, and internal IA business processes, to licensing and commercialisation strategy, and being due-dilgence/exit ready.
The programme is flexible and can be tailored to businesses at all stages of their IP journey.
Completely new to IP? You can use Beyond IP to upskill your business on the different types of IA and their role in business.
Need to implement a more coordinated approach to your IA strategy? Beyond IP can support you to create the right tools and processes to achieve this.
Want to make your business look desirable to investors? A customised Beyond IP programme can help to develop and showcase your IA strategy in a way that investors value.
Already IA savvy? Tap into Beyond IP for advanced strategic and tactical aspects of specific IAs.
The programme can be up to 12 months long, or shortened depending on your needs. The cost of the programme can also be tailored to suit. Callaghan Innovation funds 40% of the programme, up to $10,000.
What are the outcomes for the programme?
Businesses who participate in Beyond IP will:
understand and be able to identify the different IAs within the business,
develop an initial strategy to manage IAs to maximise their value to the business, and
have the knowledge to advance and implement IA strategy for better business outcomes.
The key deliverable for the programme is to upskill and transfer knowledge to participants. You will be able to continue developing your IA strategy and make better decisions around the management of IAs.
What to expect?
We take a flexible approach to the Beyond IP programme and tailor the agenda to each business. At a high level, through the programme we will cover:
Pre-programme: we'll have an initial information gathering meeting either in person or virtually.
Implementation plan: we will prepare an implementation plan which sets out our recommendations for the programme that are tailored to your business, as well as timing and costs.
Workshops: the programme will typically kick off with a two-hour or three-hour introductory workshop ideally conducted in person. Following the introductory workshop, and depending on the agreed scope of the programme, we will conduct several workshops or work-programmes stemming directly from the initial workshop discussion. These might include deep dives into specialist topics with input from AJ Park staff whose technical knowledge is relevant to your business.
Implement strategy: at various points within the programme we will present implementation plans for your business to execute.
Final report: we will present a concluding workshop and report which summarises what your business has learnt and sets out the IA strategy that has been developed and agreed upon.
How do I get involved?
Contact Callaghan Innovation to see if your business qualifies or contact us to discuss.
Frequently asked questions
When should I consider an IA strategy?

Like any part of a business strategy, it is always preferable to have prepared an answer on a topic before you are asked about it! Our view is that being able to explain your IA strategy is just as critical as being able to deliver your elevator pitch, and just as critical as being able to explain your business plan – ideally IA should be considered as you prepare both!

So, an IA strategy is something every company should consider as early as possible. It is important to take a proactive approach to avoid missteps, and a strong IA strategy will set your business up for success.

Your IA strategy will evolve over time, just like other facets of your business, and so should be reviewed regularly.

How much does it cost?

Total costs depend on the extent of the programme that you choose to take on. Callaghan Innovation will cover 40% of the cost up to a maximum of $10,000. Contact us to discuss possible programmes.

How long does it take?

The full programme is intended to be up to 12 months long, to allow time for strategy development within the programme, to allow time for the business to begin implementation of that strategy, and to allow us to provide support during implementation. We can run shorter or more condensed programmes.

Who should attend?

Business leaders and anyone involved in making IA decisions or taking IA actions in a business.

The programme can address governance and management aspects of IA strategy, as well as the day-to-day tasks of IA creation, capture and management. If your board or executive team have an interest in IAs, we can cater to their learning needs.

What will I learn?

We will give you a clear and usable understanding of the relevance of IAs to your business, and the ability to talk knowledgeably within your business or with partners about the role of IAs in capturing and supporting value in your business.

Will I get a trade mark or patent filed within the programme?

No. We can significantly adance an IA filing strategy within the programme but not finalise and file full IA applications.

What if I have an opposition or litigation issue?

The Beyond IP programme doesn't cover litigation issues or defending IP rights. However, at AJ Park we have an experienced team of IP litigation and dispute resolution experts who can guide you through patent office, tribunal and court processes for challenging or enforcing IP rights.

Do you consider global issues?

Yes. The majority of AJ Park's work for businesses is either off-shore, or comes from off-shore, so everything we do has a significant international dimension factoring in the need for a global outcome.

Can you review my agreement/contract/licence?

Yes. Agreements are a critical part of any IA strategy and will be covered in all programmes.

What is "due diligence"?

Due dilignce refers to the process a third party will typically go through in investigating your IAs before they partner with, invest in or purchase your business. Beyond IP is a great programme to help your IP and IA strategy look great during the due diligence process.

Where is the programme run?

At the AJ Park office in either Wellington or Auckland CBD. Alternatively we can come to you. Some modules may be presented virtually.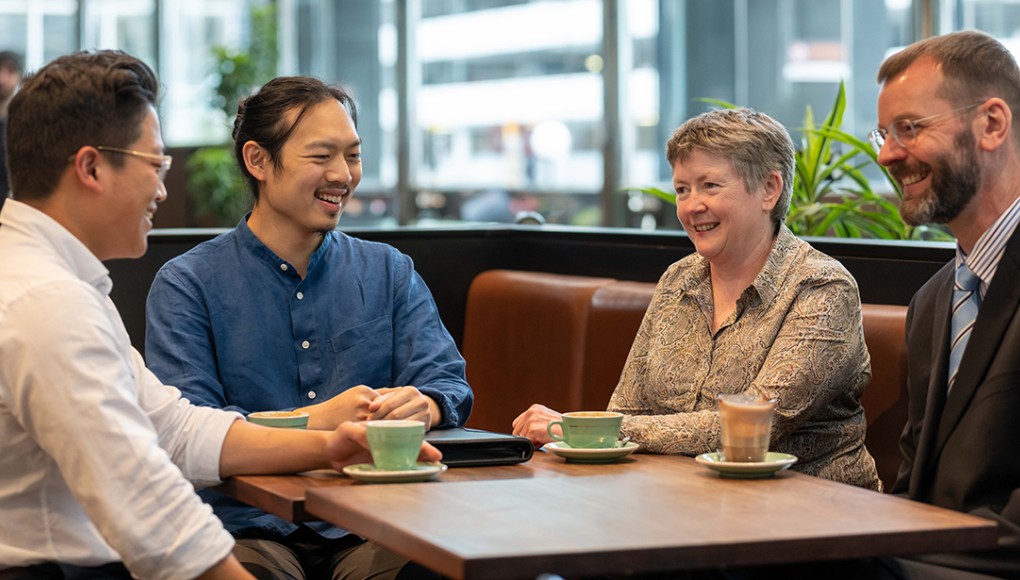 Why choose AJ Park?
We have the largest, most experienced, and most technically diverse team of IA experts in New Zealand, and a proven ability to transfer our knowledge to you so that you are better able to deal with IAs in your business.